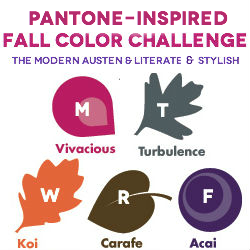 Today's color is orange (actually "koi")! I don't have a lot of orange items, so I debated between this scarf and an orange corduroy blazer that I thrifted. I decided on the scarf, but I also have a new outfit in mind now for the blazer, so that is good!
I won this cowl last spring from
Aleks Handmade
. I picked the orange because I loved how it looked
in this pin
. It's been a good choice - comfy and warm and matches lots of things.
Sweater: Merona, Cowl: Aleks Handmade, Pants: Dockers, Bracelet: Target, Flats: Payless
This outfit is super plain, really. The scarf and bracelet (it's orange, too!) make it just a bit more interesting, plus you can't see my leopard shoes.
I'm linking up!
Literate and Stylish
I Feel Pretty at Get Your Pretty On